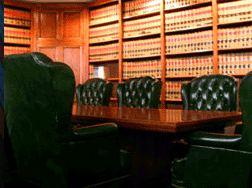 Stewart J. Neuville
(Licensed in California and Nevada) 11845 W. Olympic Blvd., Suite 1000
Los Angeles, CA 90064
Telephone:
310-312-8100
Facsimile:
310-312-8621
Email:
sjn@neuvillelaw.com

With the courage which only comes of justified self-confidence, he dared to rest his case upon its strongest point and so avoided that appearance of weakness and uncertainty which comes of a clutter of arguments. Few lawyers are willing to do this; it is the mark of the most distinguished talent.
- Justice Learned Hand

Mr. Neuville came to the practice of law in his mid-thirties after experiencing an exciting and varied professional career.

In undergraduate school he initially studied architecture and joined in Visiting Professor Buckminister Fuller's World Games before changing his major to television and motion picture production. While still in school he worked as a Co-Producer for the local PBS station producing a live simulcast concert starring John Lennon and Stevie Wonder. Upon moving to Los Angeles he continued working in film industry in a variety of production positions including as an Assistant Director. Mr. Neuville remains a member of the Directors Guild of America (DGA).

Mr. Neuville graduated from Loyola Law School, Los Angeles, California while working in the music industry where he co-produced with Bob Welch (Fleetwood Mac) two albums, "Voodoo In the City" and "Dare to Struggle, Dare to Win" which were recorded at Westlake Audio and Evergreen Studios and engineered by Joe Romersa.

After graduation Mr. Neuville was mentored by Attorney Howard King of the firm Gang, Tyre Ramer and Brown where they successful litigated against Carolco Pictures regarding the script of RAMBO III; and successfully litigated against Disney and Miramax regarding the ownership, licensing and merchandising rights of "Air Bud."

Mr. Neuville started his own firm in 1992. He is licensed to practice law before all state courts in both California and Nevada. He is also admitted to practice before the Federal District Courts in California, Nevada and Colorado and the Federal Ninth Circuit Court of Appeal.

Although experienced as a litigator, Mr. Neuville develops ongoing relationships by acting in the manner of general counsel to assist you in the development of your business and to preemptively avoid the errors and problems that can lead to the unproductive expense of litigation.